Welcome to Erthal Chiropractic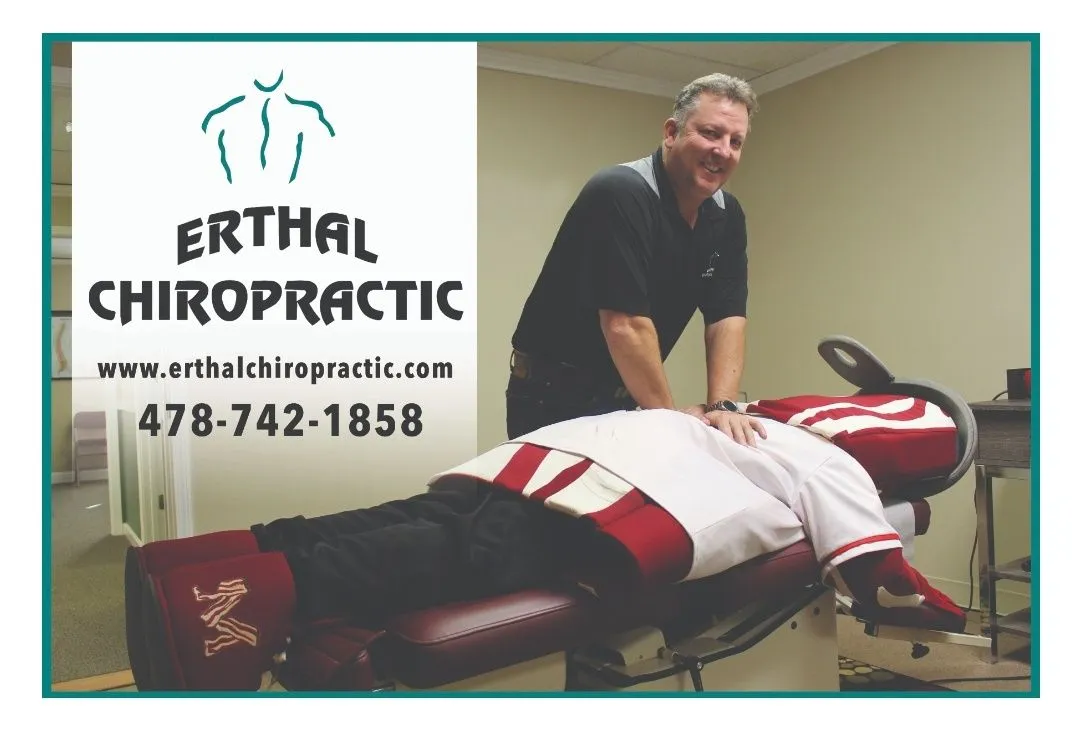 "The doctor of the future will give no medicine but will interest his patients in the care of the human frame, in diet and in the cause and prevention of disease."
~~ Thomas Edison
Erthal Chiropractic is Macon's Premier Chiropractic Office!

-Accepting former Patients of Dr. Lokey,
Dr Brant, and Dr. Stull
-Modern and Clean Facility
-Affordable Spinal Care
-No Expensive and Unnecessary Care
plans
-Attorney Liens accepted


-Chronic Back & Neck pain relief
-Most insurance and VA benefits Accepted
-Hands on Adjustments on the first visit
-Accident patient transportation available
-Visiting patients welcomed
-Easy drive from all Middle Georgia cities
-Minutes from I-75 & I-16
We give affordable and quality Chiropractic care.

No unnecessary overpriced long-term treatment plans. If you are discouraged by Chiropractic offices that want you to pre-pay $4000, $6000 or even as much as $9000 for care plans give us a call
WE NEVER TRY TO SELL PRE-PAID PLANS
Only affordable pre-visit fee
DO NOT GO INTO DEBT FOR CHIROPRACTIC CARE!
Discounts for First Responders, College Students and Military. You will Love The New Renovations to our Downtown Office.
Check out our AWESOME New lumbar and cervical decompression traction table!




Watch This Surprisingly Brutal Crash Simulator!
We treat ALL types of accidents from 5 MPH to 75 MPH, tractor-trailers, motorcycles, roll overs and more! We also offer therapies to treat muscle soreness and tension following these type of collisions
Dr. Daniel Erthal is a chiropractor serving Macon and the surrounding area. Our chiropractor and the rest of the welcoming team at Erthal Chiropractic are committed to providing chiropractic solutions to address your unique needs. We are your place in Macon for Spine and injury.
Do you Suffer From...
| | | |
| --- | --- | --- |
| Arm / Shoulder Pain | Back Pain | Personal Injury |
| Arthritis | Chronic & Acute Pain | Leg / Hip Pain |
| Auto Accident Injury | Headaches / Migraines | Neck Pain |
Visit our Services page to learn more.
Even if you're looking to improve your overall health, our chiropractor can help you attain your everyday wellness goals! Visit our Testimonials page to find out what our patients are saying about our Macon Georgia chiropractor and our chiropractic Payment Options.
At your first visit to Erthal Chiropractic, Dr. Daniel Erthal will explain how chiropractic care works. What to Expect?
If you have not been to a chiropractor before and want to find out more, please Email Us or call 478-742-1858 to receive the answers to your questions from our experienced team. We also welcome referrals, so we invite you to share our chiropractic and wellness information with your friends and loved ones. Dr. Erthal has been serving the Macon area for over two decades and would love to help you. If you are in the Middle Georgia / Central Georgia area Erthal Chiropractic is the place for you. There are many Macon GA Chiropractors, call to see it Dr. Erthal is the one for you!
We Offer Lumber and Cervical Spinal Decompression

Spinal decompression stretches and relaxes the spine in a controlled manner, using a traction table or similar motorized device. This type of traction therapy relieves back and neck pain, along with pain radiating into your arms or legs.
Many conditions can cause neck, back and radiating pain. Rubbery discs cushioning the bones of the spine can bulge or herniate to allow their gooey centers to rub against nerves, causing pain. Degenerative disc disease occurs when these discs begin to break down and allow the bones of your spine to grind against one another. Sciatica is a specific type of back pain that radiates down one leg. Facet syndrome causes pain when the joints of your spine become inflamed. Spinal stenosis causes pain when the inside of the spinal column narrows to pinch the nerves it houses. We are the original decompression disc center of Macon!
Spinal decompression treats a number of conditions, including:
Herniated or bulging discs

Sciatica

Degenerative disc disease

Facet syndrome

Spinal stenosis
*** Mercer Students, do you need Chiropractic care during the semester? We will gladly continue your home town Chiropractor's care plan!!***
Erthal Chiropractic is the Official Team Chiropractor of the Macon Bacon and Macon Mayhem Professional Hockey Team.


Over 5 year of Thanksgiving Turkey Giveaway, 5000 Families Received a Free Thanksgiving Turkey!
Dr. Daniel Erthal
Macon Chiropractor | Erthal Chiropractic | 478-742-1858
Macon GA Chiropractic Center
144 New Street
Macon, GA 31201